Are you struggling withfinding the right assisted living communityfor your loved one?



Has your senior care research process been overwhelming and time consuming to the point of frustrating you?

Well, dont give up yet as with theright knowledge and approach, you will find the process easy and fruitful.In this post, I will show you some of the most common assisted living mistakes you may be making and how to avoid them.




1. Visiting only one facility
This is one of the most common mistakes people searching for senior care make. Probably its because they find the search process to be sick and tiring and therefore jump to the first option they come across. You have to avoid this trap.
Visiting several facilities opens your mind and presents you with several options from which you can make a choice. You cannot have a basis for comparison if you only visited oneassisted livingfacility.
It may be that one has some appealing amenities that are within your budget, while another could be having even better amenities that are still within your budget. You can then make the best choice depending on the requirements of your loved one.
One way to avoid this mistake is by taking the time toresearch and visitat least three facilities. You can even search on the internet or make phone calls and visit them in person.
2. Basing decisions on the outward appearance of a facility
No one will dare take their father or mother to a rundown, dilapidated, and unhealthy looking kind of an assisted living facility. Most people tend to incline towards the new, shiny and pretty facilities. This is because the outside appearance says a lot about the facility.
You must, however, not base your decision on the shininess of the buildings. Most people tend to think the newer and shiny, the better, but this is not always the case as luxuries do not determine the quality of life. With assisted living, the aspect of quality living is what matters most, and for your loved one, this can only be through the quality of care he or she receives.
You should, therefore, make your decision based on how caring a facility is. This you can tell by looking at the residents of the facility. What are their faces saying? Do they look happy or sad? What about the staff, are they friendly? Do they handle others loved ones roughly? These, among other things, are the real indicators of the experiences your loved one will have there.
3. Choosing what appeals to you rather than your loved one
The decision to take a loved one to an assisted living facility is often made by the seniors adult children or grandchildren. The decision-maker if not considerate enough, may make a choice based on what they think is good for the senior. This is not always the case.
For instance, you can choose a center because it has a heated pool for its residents or because it has a large backyard. While these are some great and appealing amenities, they would mean nothing to a loved one who cant physically make use of them. For example, what advantage would be a heated pool for a senior who cant leave their bed?
When making your search, ensure you take into consideration the desires of your loved one and not just your own. If possible, have them describe to you their desires and then use that as the basis of your search.
Your loved one may also not manage to tell of their desires. In such a case, then you, together with your family members or close friends, can deliberate on what you think he or she would love.
4. Not including others in the search process
The process of searching for an assisted living facility can be overwhelming. But some people would rather bear the pressure alone than bringing other people on board. While its still possible to do it alone, it would be much better, quicker, and easier if you involved experts and professionals in the industry.
To move a loved one to a senior care facility should not be a cause of embarrassment for you. Instead, you should be glad that he or she will continue to enjoy quality life as they continue to age gracefully.
Talking and consulting with knowledgeable people about your intentions arms you with the right knowledge and attitude. Your mind will be opened to different experiences others have had, and in the process, you will know what to prioritize and what to avoid.
There are organizations and advocates whose main mission is to help people navigate the waters of assisted living for loved ones. They can prove to be very helpful, especially if you have a loved one with special needs. This is because being in the industry, they will help you to make the right choice based on your requirements.
Note, however, that not all people can give you the right direction. For instance, your doctor may be an expert in health matters, but his or her recommendation for a facility for you will be based on what he has heard through word-of-mouth. This is because such people rarely take time to research such matters.
You should, therefore, take it upon yourself to visit and assess each facility recommended to you
5. Failing to read and understand the facilitys policy
Most people fail to fully read the contract or policy of the center they choose. While the contract may not be as detailed as a life insurance policy, you should not breeze through it but instead, read keenly and internalize. Where you dont understand, ask for clarification.
By reading the contract to the last detail, you protect yourself and family members from exploitation or paying for unnecessary fees. It also arms you with knowledge of what your loved one can expect from the facility and what is expected of them by the facility. You can, therefore, ask for an explanation should expectations fail to be met.
Other than that, you can know if it is possible to have food, medical supplies, laundry, etc., done for your loved one at an extra cost or not. This is because some facilities charge for such services as different packages. Your loved one may not require them all, so this saves you money.
To make sure you fully understand what your loved one should expect, ask as many questions as possible.
6. Making short term plans
When it comes to choosing a community for a loved one, most family members make short term decisions only. This includes enrolling their loved one to a community and staying optimistic that he or she will fair better.
While this is not wrong, it is better to think realistically and anticipate changing needs for their loved ones as time goes on. Anticipating their future needs in the present helps them stay prepared not only emotionally but also financially.
For instance, as time progresses, your loved one may require more specialized care. If the community in which he or she lives in right now cannot give that care, then you will have to move them. Moving from one facility to another harms your loved one as their peace gets disrupted. It also unnecessarily burdens the family financially.
To avoid this, make an informed choice from the word go. You can have your seniors doctor help you recognize his or her present and future needs and book them into a facility that will best handle them. If he or she stays in the same facility over a long time, they will develop familiarity, which brings peace of mind and comfort and in the long run, help them lead a better life.
7. Interacting with a single staff only
When you visit a facility, you will probably talk to one person throughout the visit. This person will show you around the facility and will most likely become the only person you interact with within that center.
While this is not bad, you should make contact with other persons in the facility. Through this, you can detect their attitude, which tells a lot about the facility.
Talking to one person only can give you a not so accurate view of the facility. If your point person talks rudely to people, you may dismiss the facility as a place you wouldnt want for your loved one. On the other hand, the point person could be a sweet talker while the rest of the staff are suffering from filthy working conditions.
During your visit, talk with the residents and ask them questions. Observe the other staff, do they seem happy? Do they look tired and overworked? Is the mood upbeat or somber? These are helpful indicators that paint a picture of what the facility will be like for your loved one.
8. Choosing a facility because it worked for someone else
Assisted living facilities are like medicine. Do not take someone elses prescription but rather get your prescription. Many people rush to take their loved ones to a place just because their friends took theirs there
You should note that different people have different needs, just as different facilities offer varied services. The choice you make should only be based on your loved ones unique needs. This is after you have put into consideration their desires, what their doctor says, the future needs you anticipate them to have, your finances, etc.
You should also be careful of marketers who will do anything to make sure you choose their facility. Some will even go to the point of making false statements to impress you. For instance, they may say that their facility has trained staff who can take care of seniors with dementia while, in reality, nothing they dont have such staff.
This means you have to search well and rely on more than one source for information. Do not just their word for it or rush in based on what your friends loved one experienced.
9. Rushing in making decisions
The urgency you have in getting attention for a loved one cannot be overlooked. Caution should, however, not be thrown out, especially as this involves the life of your loved one. Some people tend to hastily settle on any senior care center without minding the needs of their loved ones.
You should know that all facilities are not equal. They charge differently, have different amenities, and offer varied services. The facility your loved one ends up in should be the most optimum otherwise, they will get stressed, and that is not your intention.
During the decision-making process, visit as many assisted living communities as possible and make an observation of how they operate and how the residents live. What you see is what your loved one will come to experience. You should then ask as many questions as possible until your gut feeling is right; otherwise, the place will not be suitable for him or her.
How to prepare for your senior care research
While the search for a suitable senior care facility can quickly get frustrating, this should not always be the case. If you avoid the assisted living mistakes listed here, then the process will be easy for you.
One more thing that will surely save you lots of time to prepare your questions before visiting any facility. How you ask? By identifying the unique needs of your loved one beforehand, you can use them as a basis to prepare a set of questions whose answers seek to address your loved ones needs directly.
Then as you make your facility search, you will come across as someone who knows what they want. The people you talk to will answer you objectively and you will achieve your goal faster. But without such a guideline, then anything can be tossed at you and you will be swayed from here to there leaving you more confused and frustrated.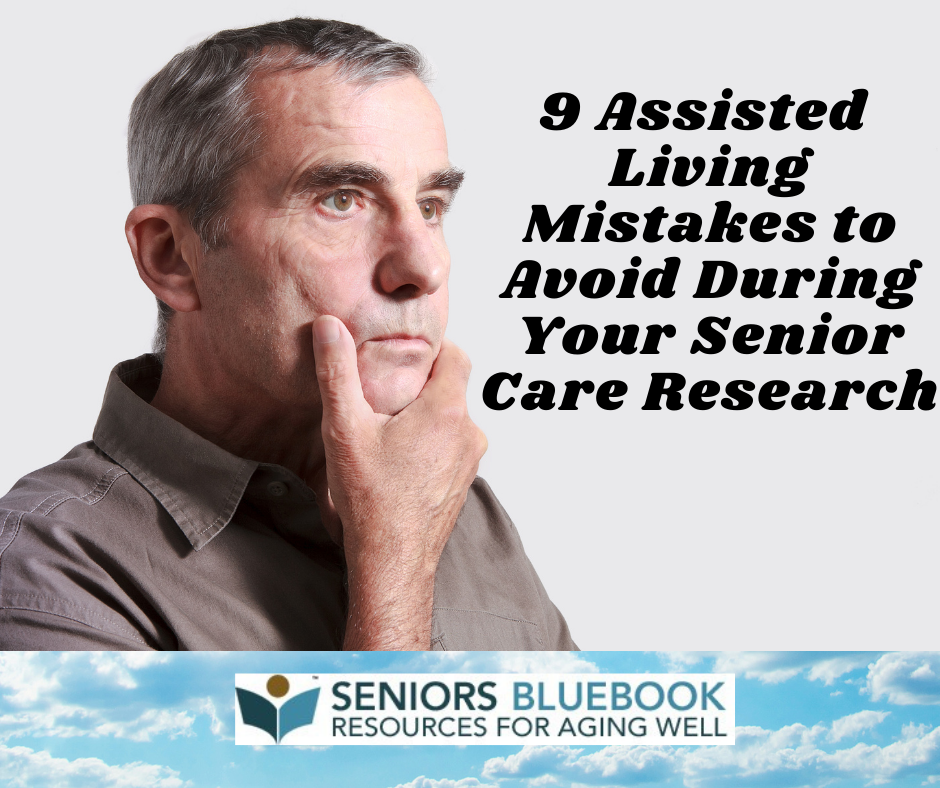 Other Articles You May Like