Author
The Gallery at Cape Coral
For more information about the author, click to view their website: The Gallery at Cape Coral
Book/Edition
Florida - Southwest

The mental and physical benefits of gardening for seniors are well-documented. There's just something special about working with fresh soil, sunlight, and water to bring a seed or seedlings to maturity, and the joy that comes from harvesting your work, be it a freshly cut vase of flowers, fragrant spices, or fresh vegetables.
Many seniors have a lifelong love of gardening, but stop gardening due to mobility issues. This isnt necessary. With the proper tools and assistance, seniors can continue to indulge their green thumbs. Our own communities have thriving gardening programs through our Green Thumb projects. Freshly grown herbs are used in our memory care Spice Club, while community-grown flowers are part of our pop-up floral arranging events, are often seen decorating seniors apartments, or are given to friends and family during Kindness Week.

HOW DOES GARDENING HELP SENIORS' PHYSICAL HEALTH?

Gardening provides seniors with opportunities for daily exercise, which burns calories and strengthens muscles. Seniors who garden have less risk of heart attack or stroke, as well as lower rates of osteoarthritis, depression, and Type 2 diabetes. Getting outside increases a seniors supply of Vitamin D, which also reduces heart disease.
The physical benefits of gardening for seniors include a stronger immune system. Exposure to a common beneficial soil bacteria, mycobacterium vaccae, is linked to improved immune responses and lower rates of allergies, asthma, psoriasis, and depression.

GARDENING AND MENTAL HEALTH

The physical benefits of gardening alone would make gardening for seniors a worthwhile activity, but gardening also improves mental health. One study discovered gardening can reduce a seniors risk of dementia by as much as36 percent.
How does gardening help the elderly stay mentally sharp? Researchers theorize gardeners make use of their fine motor skills, dexterity, problem-solving skills, and sensory awareness, all of which stimulate the brain. Gardening is also known to lower stress, and increase serotonin, a brain chemical that improves mood and helps protect against depression.
Gardening can be a rewarding social activity, allowing seniors the opportunity to work together, chat, and enjoy each others company. Feelings of social isolation are reduced, lowering the risk of anxiety and depression. Small wonder, then, that we incorporate gardening into so many of our community activities!


HOW TO HELP SENIORS GARDEN

To help seniors enjoy the benefits of gardening, its sometimes necessary to modify the gardening environment and lend assistance as needed. A secure garden, for instance, helps seniors with memory loss enjoy gardening without risk. Adequate shade, sunhats, and frequent hydration breaks are also recommended to prevent overheating.
As for the garden itself, modifications are needed to account for low stamina and mobility problems, two common issues affecting seniors. Raised beds with room to sit on all sides, container gardening, and indoor gardening all allow seniors to enjoy working with plants without overtaxing themselves. Make sure there are plenty of stools, chairs, and other resting places in the garden, and that pathways are unobstructed and easy to navigate with canes, walkers, or wheelchairs.
Gardening tools for seniors are readily available at most hardware stores or nurseries. Foam grips can be attached to existing tools to help people with arthritis and are brightly colored to make gardening easier for seniors with vision problems. Grabbers and extension poles that can be used while sitting are great gardening tools for seniors, while wheeled garden caddies offer not just storage for tools, but also convenient places to sit.
Gardening is a fun, low-intensity exercise for seniors with multiple physical and mental benefits. Whether you want to grow flowers, herbs, or vegetables, its a great way to stay in shape, socialize, and maintain a positive outlook on life, so grab some seeds and a trowel and dig your hands into some fresh, fragrant soil! You wont regret it.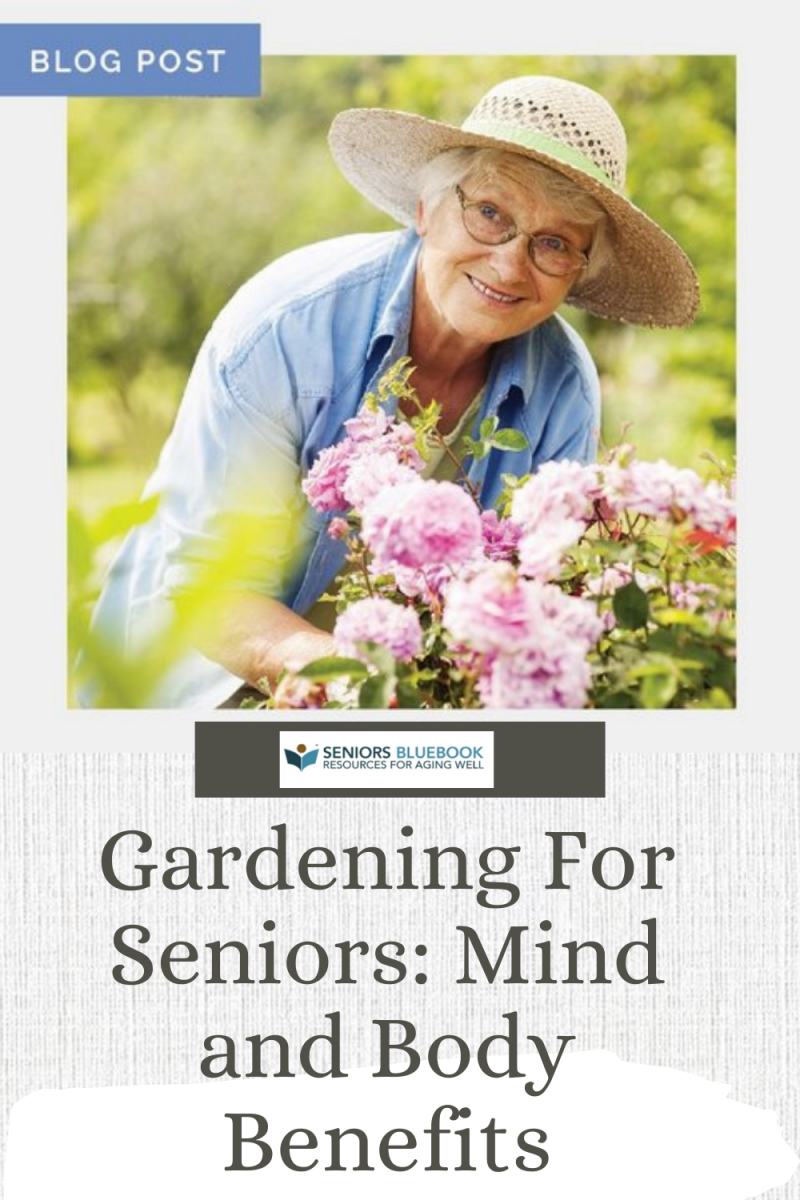 Other Articles You May Like