Author
HarborChase Of Sarasota
For more information about the author, click to view their website: HarborChase of Sarasota
Book/Edition
Florida - Sarasota, Bradenton & Charlotte Counties
Written & Submitted By: HarborChase of Sarasota- click here for more information*

Most people don't think about senior living until they need to or until its relevant to them and their family. Because of this, there are many misconceptions surrounding the senior living industry and the types of care available. For example, when most people think of senior living, they think nursing home or (the more ageist idea) old folks home.
Not only can some of these misconceptions be demeaning, but a lot of them are simply incorrect. Yes, nursing homes are a type of senior living, but they are one of many! In addition to nursing homes, theres also independent living, assisted living, dementia care, and short-term respite care.
However, the two types that tend to get confused the most are assisted living and nursing homes (also called skilled nursing homes or skilled nursing facilities). Since both provide a more specialized degree of care, people often assume they are the same thing; however, they are different types of care who cater to individuals with different needs.
HarborChase Senior Living offers both assisted living and skilled nursing services at our communities throughout the U.S., and were shedding some light on the similarities and differences between these two types of care, as well as who can benefit from each.
Similarities Between Assisted Living & Skilled Nursing
Supportive Care and Services
Typically, when adults move into a senior living community, they do so because they need (or want) some type of care, support, or engagement. Whatever support they provide, the first purpose and priority of these communities are to enhance the quality of life for older adults.
Safe and Secure Environment
All senior living communities, no matter what type of services they offer, have enhanced safety and security measures to ensure resident safety. From community measures such as secure entry and exits and sign-in systems to personal measures like handrails and emergency call technologies, assisted living and nursing homes host heightened safety features.
Nourishing Meals
Both assisted living and skilled nursing facilities provide well-balanced, nutritious meals to residents and guests. While the dining experience may look a little different, residents from both types of communities will get to benefit from daily, prepared meals.
Life Enriching Programming
While they may prioritize different things, both assisted living and nursing homes offer programs and activities to keep residents and guests engaged, socialized, and active, including guided fitness, spiritual services, and art classes.
Differences Between Assisted Living & Skilled Nursing
Degree of Care
Residents in an assisted living community are generally healthy and independent but may require support with routine day-to-day activities, like bathing, eating, or mobility. Aside from some assistance with certain activities, assisted living residents typically have a higher degree of independence and ability.
In contrast, residents of a nursing home typically require round-the-clock or more comprehensive care. These individuals often have a more complex medical condition requiring thorough attention and monitoring by licensed skilled nurses or other professionals.
Atmosphere
While both types of communities keep their residents engaged by offering programming and events, the atmosphere of each differs simply because of the nature of the care provided. Many nursing home residents may be confined to their beds or require assistance with mobility, so the atmosphere is generally less energetic and vibrant. Activities are still offered, but they may be lower-impact than those in an assisted living community.
Appearance
Another main difference between assisted living communities and skilled nursing facilities is the appearance itself. Since skilled nursing facilities provide such a specialized degree of care, they tend to be a more clinical and sterile environment. However, assisted living communities are more of a residential setting and often resemble a high-end apartment building or luxury resort, like HarborChase.
Length of Stay
Generally, skilled nursing aims to provide medical care or rehabilitation following a surgery or injury. It tends to vary based on the reason for being there, but the average length of stay in a nursing home is typically less than one year(this also has to do with Medicare coverages).
On the other hand, individuals usually live in assisted living communities for2-3 years on average, and many even wish they had moved in sooner!
Understanding Your Options
While there are many similarities between assisted living communities and nursing homes, its the differences that are most crucial in determining which care option is right for you or a family member. While both care options will provide a safe, engaging, and supportive atmosphere, they vary in the type and intention of care delivered.
Assisted living communities provide a long-term, residential option that includes support when needed and independence when wanted. Skilled nursing facilities deliver more acute medical care and attention for those with immediate clinical needs.
Before determining which care option could be most beneficial for your situation, its essential to understand the needs and goals.
Care at HarborChase
HarborChase Senior Living offers both assisted living and skilled nursing services, as well as independent living, memory care, and short-term care. Our upscale communities are located throughout the United States and offer highly-focused, professional care in a comfortable and appealing environment. Whatever the degree of care, we ensure that resident and guest needs are met properly and compassionately.

For more information on our assisted living and skilled nursing communities or to speak with a team member about which care is right for your family ,click here to contact us today!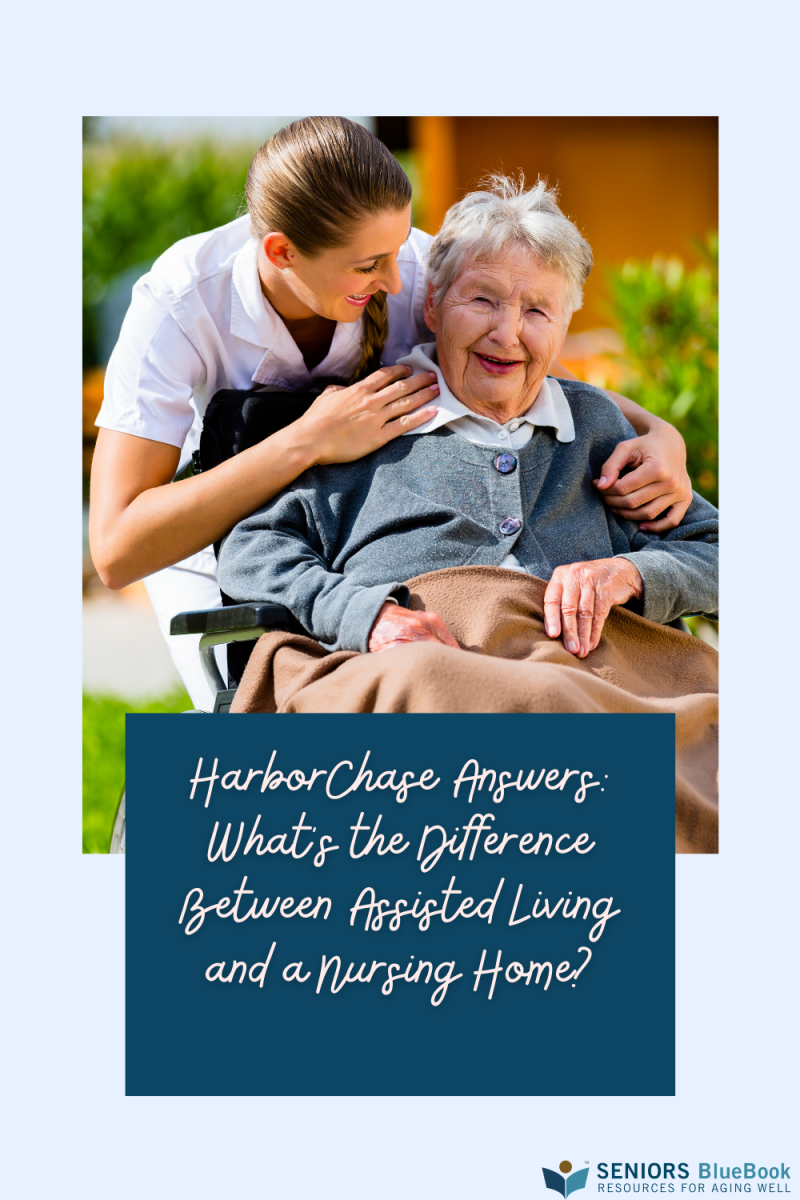 Other Articles You May Like