Author
HarborChase Of Sarasota
For more information about the author, click to view their website: HarborChase of Sarasota
Book/Edition
Florida - Sarasota, Bradenton & Charlotte Counties

For more information on HarborChase Senior Living, CLICK HERE.
Staying active and adventurous is a great way to explore new places and create memories while staying energetic, sharp, and healthy. Whether its joining a fitness class, taking a short road trip, or going on an international vacationleading an active and fulfilling lifestyle can do wonders for your overall health and wellness. At HarborChase Senior Living, with retirement communities throughout the United States, we provide you with care when you need it and independence when you want it. We encourage all residents to get active and explore and know that they will always have a home to come back to.
We understand that there is still uncertainty and safety concerns surroundingCOVID-19. HarborChase is sharing this article in the hopes that it helps you understand the benefits of travel and activity, and maybe plan a trip once social distancing is no longer necessary!
Benefits of Living an Active Lifestyle
Being physically active is important for everyone, but the benefits of being active become more valuable with age. Exercising a few times a week can significantly improve your overall health, whether mentally, physically, or emotionally. Here are some specific benefits of physical activity.
Physical Benefits:

Helps improve stability and balance, which can help prevent falls
Can reduce the impact of chronic conditions like heart disease, diabetes, and high blood pressure
Maintains healthy bones, muscles, and joints
Improves stamina
Helps maintain a healthy weight
Improves sleep

Mental and Emotional Benefits:

Can reduce symptoms of anxiety and depression
Promotes healthy brain function
Aids in socialization
Can improve mood

Aside from the countless health benefits, getting out and doing something active is a great way for you to try something new! Whether its a yoga class, water aerobics, or a ballroom dance lesson, you can be active while having fun and learning something new.
Ways to Get Active at a Senior Living Community
Living in an independent living community brings you endless possibilities to get out and get active. Some examples of how you can get active in your community include:

Attend a guided fitness class
Stop by the fitness and health center
Walk around the grounds and enjoy some fresh air
Clean or decorate your living space
Grab a friend and go shopping or walking around town



Getting out and active in your community is a great way to meet new people and see new things all while gaining the benefits of physical activity!
Benefits of Travel
Another way to get out and maintain an active lifestyle is through travel. There is so much out there waiting to be explored, and adventure is only a short flight, drive, or even walk away. When you get out of the daily norm and see new sights, your perspective can change, and you may find yourself becoming more relaxed, creative, and open-minded.
There are also several health benefits of traveling! Simply getting out of your comfort zone and exploring new places can encourage health, happiness, and longevity.
Some known benefits of traveling include:

Relieves stress and enhances mood
Encourages creativity and confidence
Improves communication skills
Promotes physical activity (Anyone that has traveled knows there can be a lot of walking!)

Many people love the idea of traveling but feel like they never have the time or ability to. Fortunately, retirement is the perfect time to see the world, country, or state! Its an excellent opportunity to use your freedom and independence and check some places off your bucket list. If you cant decide what type of travel is right for you, here are some popular trip ideas for older adults.
Travel Ideas for Retirees
Cruises
A cruise is a perfect opportunity to take advantage of your independence and free time. Cruises are a fun, affordable option that can cater to both active adults and those who just want to relax!
Most cruise lines offer an all-inclusive package, so you do not have to worry about keeping cash and budgeting your trip which can relieve a lot of stress from your vacation. Other added benefits include excursions, scheduled itineraries, and specialty cuisines that make the cruise experience an enjoyable one.
Once again, we understand that there is still uncertainty and safety concerns surrounding COVID-19. HarborChase Senior Living is encouraging travel once it is safe to do so.
Golf Vacations
If you enjoy being active outdoors, a golfing vacation might be your ideal getaway. These outings are perfect for groups or couples looking for some friendly competition, some warm and sunny weather, or a bit of light exercise. Plus, most golf packages include stays at lodges, which might offer spa or fitness services. A few great golfing destinations include the beautiful Caribbean and sunny Florida.
Food Tours and Cultural Adventures
Food tours have quickly become one of the most popular experiences for travelers. They are a fun way to get to know a new city, experience a different culture, and eat some delicious food! You dont even have to go to Italy or France to seek out some amazing cuisines; some of the worlds best food cities are right here in the United States. Popular destinations for foodies include New Orleans, Chicago, and New York City. Just be sure to get some exercise after eating all that food!
Another great way to immerse yourself in a new culture is by visiting museums, historical sites, and more. Doing this is one of the best ways to learn about other cultures and customs, and can give you a new perspective and appreciation for life.
Wheels of Freedom
If flying overseas doesn't appeal to you, there are many ways to see our own country! A great way to see the United States coast-to-coast is by Recreational Vehicle (RV). RVs are perfect for retirees who want to see a lot, travel with ease, and still enjoy an active lifestyle on the open road.
An RV adventure can pose the perfect platform for travel with no need for repetitive bathroom stops or breaks to stretch your legs. It is essential to make your trip worthwhile with destination stops, such as the Carlsbad Caverns in New Mexico or Mount Rushmore in South Dakota.
Travel Tips for Older Adults
Traveling and seeing new places is an exciting experience, so its important that you are prepared so that your trip goes smoothly. If you or any of your travel partners need special arrangements, be sure to schedule ahead of time. Here are a few travel tips for those heading out on a new adventure:

Ensure you have enough medication and vitamins for your entire trip. It is also a good idea to pack extra in a separate location, in case some luggage becomes misplaced.
Always check the weather the day before your trip, and if you are going on vacation for longer than a few days, be sure to pack an array of clothing options.
Schedule any special accommodations ahead of time.
Be flexible with your schedules, and be willing to adjust if you feel tired or overexerted. After all, vacations are supposed to be relaxing!

Get Active at HarborChase Independent Living
At HarborChase retirement communities, we encourage an active lifestyle for all residents. Our communities provide a maintenance-free and attentive lifestyle that gives you more time to do the things you love.
With no home-upkeep or allotted two weeks of vacation, living in a HarborChase retirement community provides countless opportunities for you to get active, try new things, and explore new places with the added benefit of always having a home to return to.
In addition, when you're not out exploring, there are countless things you can do within our communities. Whether its a fitness class, social event, or day excursion, HarborChase Senior Living is always coming up with new and extensive ways to keep residents engaged and entertained.

HarborChase knows how vital it is to get physically active, and that's why our communities are committed to promoting a healthy, active, and fulfilling lifestyle. Each of our unique independent living communities across the country is tailored to provide residents with the proper tools they need to get moving and get active.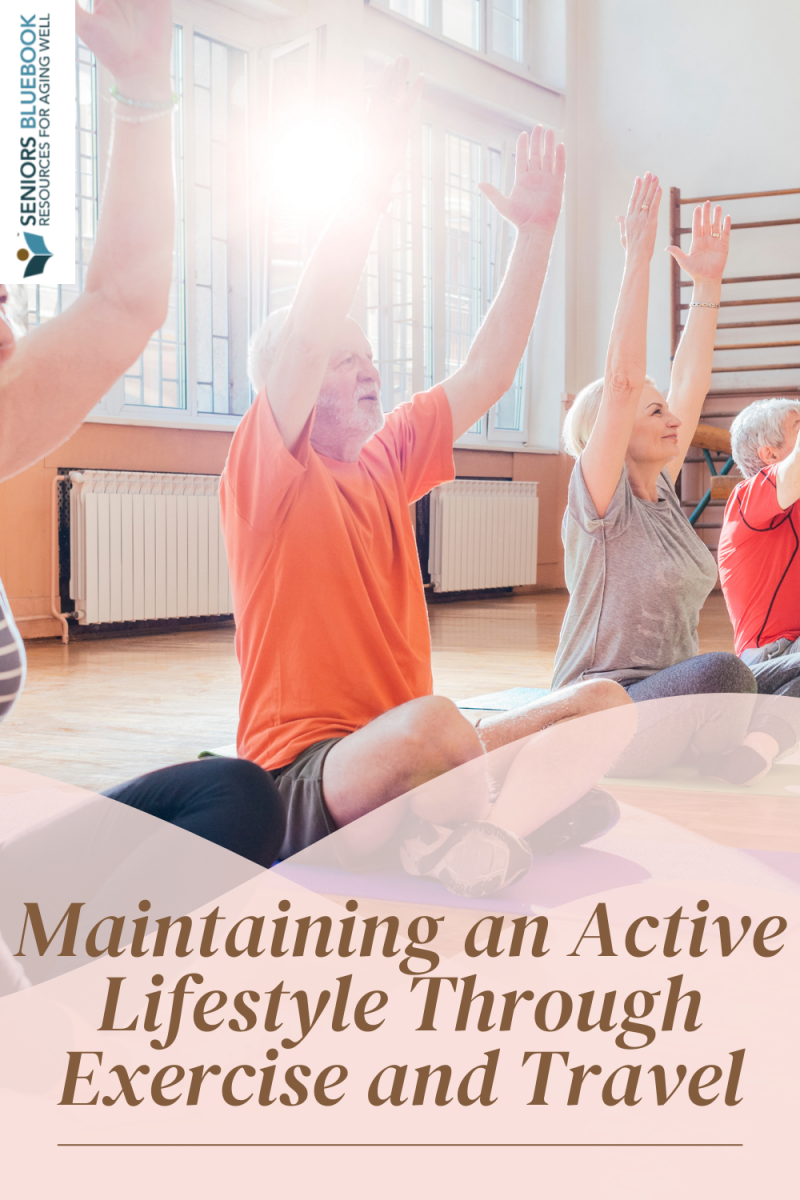 Other Articles You May Like