To learn more aboutChancellor Gardens at Clearfield - MBK,CLICK HERE.
For Ernie, a longtime pilot, soaring through the clouds is his passion. Today, at age 97, taking flight still brings him joy even if hes no longer able to pilot his plane. However, with the addition of iN2L at Seven Lakes Memory Care in Loveland, Colorado, he can fly again through the programs flight simulator.
iN2L is an awesome way for residents to connect again with activities they love. Through the biking, driving, or flight simulator, they can revisit where they grew up or explore places theyve always wanted to visit, said Debby Ahrens, executive director for Seven Lakes Memory Care.
Whats particularly impactful with iN2L programming, family and friends can add pictures and videos that make their loved ones iN2L experience more personal and meaningful to them, said Ahrens. With just one touch, residents can connect with family members through video chat, instant messaging, and view photos.
iN2L is a content-driven engagement program designed to create meaningful experiences for older adults by connecting them to the world around them. A leader in providing person-centered content, iN2L is easy to use and requires no computer experience. Residents touch pictures on a screen to enjoy engaging activities and to connect with caregivers and loved ones.
We were drawn to the program because it focuses on bringing people together, connecting residents with what interests and fulfills them, said Crystal Roberts, National Director of Resident Enrichment.
According to Roberts, nine of MBK Senior Livings communities added iN2L to their rich offering of resident enrichment activities. Those communities include Estancia Del Sol, MuirWoods Memory Care, Almond Heights, The Commons at Dallas Ranch, The Commons at Union Ranch, The Commons at Elk Grove, The Commons on Thornton, Crystal Terrace of Klamath Falls, and Seven Lakes Memory Care.
The iN2L program is a wonderful addition to our whole-person care model and signature memory care program, said Roberts. With iN2L, residents can stay connected with family and friends through email and video options; enjoy lifelong passions; play games; stay active with exercise and therapy activities; view sermons and listen to hymns; and complete trivia and puzzles that support brain fitness. Its the whole package!
Technology and programming like iN2L enhance the companys signature Connections for Living by MBK program that support residents living with Alzheimers or dementia through four key areas: physical wellness, environment, enrichment, and family involvement. However, the iN2L program is not exclusive to memory care residents. In fact, at the companys Estancia Del Sol community in Corona, California, iN2L helped a new assisted living resident connect with a neighbor and manage his anxiety.
We had been helping a new resident manage his anxiety attacks when it occurred to one of our caregivers how this gentleman enjoyed visiting casinos and playing poker, said Lisa Hunt, executive director for Estancia Del Sol. We pulled up a poker game on the iN2L program, and it captivated him. We visibly saw him being relieved of the anxiety at the moment. But, what is special is what happened next.
According to Hunt, a longtime resident watched Bob play poker and struck up a conversation about how she always wanted to learn how to play. Bob and Carol spent over an hour conversing and creating a bond over the game.
Because of the pandemic, weve been limited on hosting large group activities where these sorts of connections organically happen in our community, said Hunt. It was wonderful to see how this program not only answered an immediate need in providing a resident comfort but also created a new friendship with a new neighbor.
What I love is how this program can bring people together, added Hunt.
iN2L is just one example of how MBK Senior Living has incorporated technology into its communities to support residents needs. Last year, the company added K4 Connect to many of its communities. K4 Connect utilizes the Amazon Echo Dot to provide residents greater freedom and independence. Through the digital companion, they can ask Alexa what is on the menu, when a favorite activity is scheduled, dial up a loved one, turn on their favorite music or program, and set up a daily routine, as well as receive important community-wide messages.
There is often a stigma that older adults cant navigate technology. It just isnt true, said Roberts. Our residents use a wide range of technology to stay active, support continuing education and brain health, enjoy hobbies and explore new ones, and connect with loved ones and the world.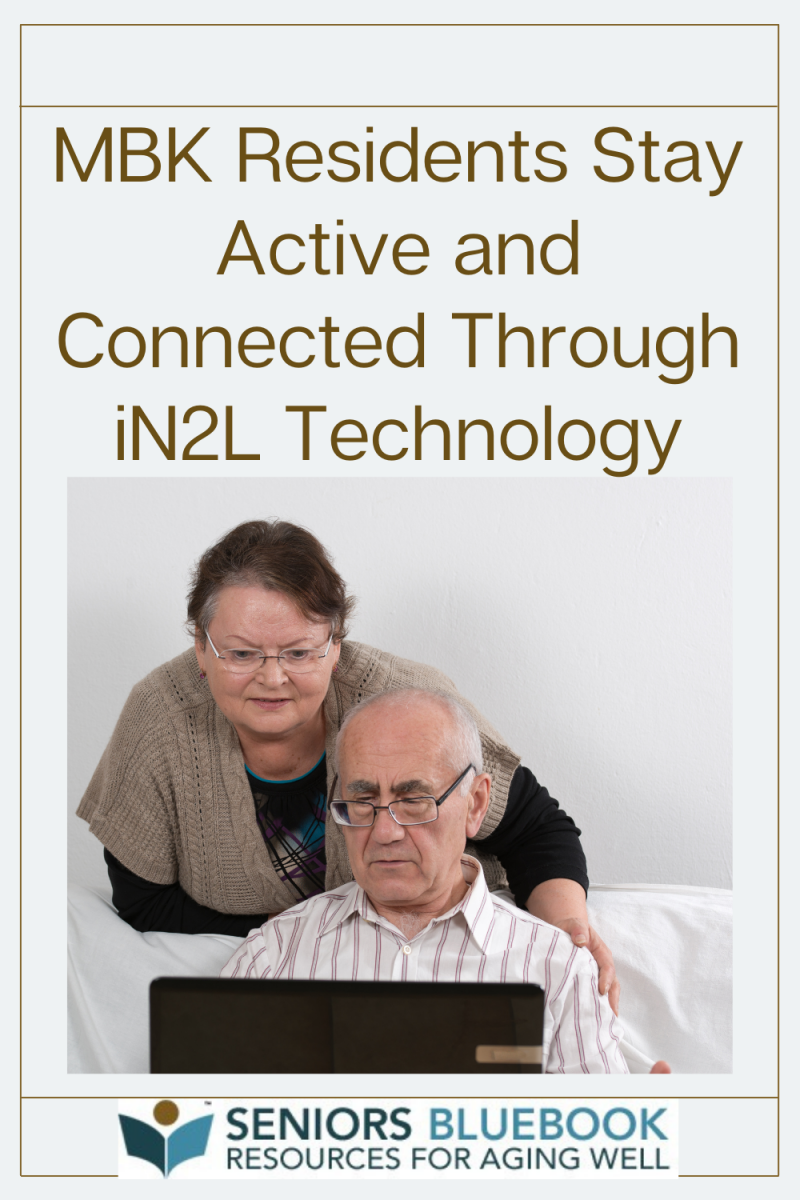 Other Articles You May Like