The stark reality? There is a housing crisis for people with developmental disabilities.

More than 6 million Americans have an intellectual or developmental disability (IDD).
Nearly 500,000 young people with autism will enter adulthood in the next decade.
There is a severe shortage of independent living options for people with disabilities.
Nearly 1 in 3 young adults with a disability had no community participation in the last year.
Governmental cutbacks have left social workers spread severely thin, reducing their capacity to assist people with disabilities.
Nearly 3 in 4 people with disabilities live in the family home, often relying on parents for basic activities like preparing meals and dressing, as well as transportation and connecting to the outside world.


Our response? Bethesda Cornerstone Village.

Cornerstone Village is a residential community designed to unite people with developmental disabilities with other members of the community in a loving, Christian environment.
Each Cornerstone Village will be developed to maximize accessibility, and a specific percentage of the units will be reserved for independent adults with developmental disabilities.
Heres why:

It furthers the cause of inclusion by creating an opportunity for people with IDD to live in an integrated community.
Providing a safe home for people with IDD gives parents peace of mind knowing their child is safe.
Intermingling people with developmental disabilities and people without disabilities results in a more meaningful and rewarding life for all.
Living in a Christian environment will strengthen the spiritual lives of all residents.
Community programming and activities will bring people together, fostering deep friendships and lifelong learning.


What does the future look like?

The Cornerstone Village in Victoria, Minn., is the first of its kind in the U.S.and it wont be the last.
We are moving forward with a thoughtful but aggressive strategy to open multiple Cornerstone communities in several states, including Wisconsin and California in addition to Minnesota.
In addition to providing truly inclusive living for people with disabilities, Cornerstone will provide much-needed revenue to help Bethesda Lutheran Communities continue to deliver quality services for adults with disabilities across the country.
Many of the services Bethesda offers are reimbursed by the government, but we still rely on other sources of incomelike donationsto fund more than 30% of our services. So not only will Cornerstone address the immediate need of housing and community for people with disabilities, but it will help us continue to deliver on our mission for years to come.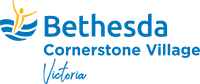 Other Articles You May Like