Sean moved to the US as a teenager and has always struggled to keep tabs on his grandparents from afar. With the onset of COVID-19 exacerbating the situation, he struck inspiration and found the perfect solution for his problem.
Most adult Americans dont live with their elders and have busy lifestyles. To check in, they call, text, and visit when they can. But much is often left unsaid. Seniors may not want to cause worry or may be unaware of their own health status. This lack of information causes anxiety for the children, and health risks for the seniors.
Sean grew up in China and was very close to his grandparents. From early on, Grandma Ping was keen on getting Sean exposed to music. When Sean was a little boy, Grandpa Ming used to have him at the back of his bike and Grandma would ride alongside them to attend piano lessons.
Since moving to Chicago, staying in contact has always been a challenge. Now that his family is half way across the globe, the time difference is almost complete opposite. Many times when Sean misses his grandparents and wants to check in, 2pm CT means its 3am in China.
Seeing that current smartwatches only give users insights on their own health, Sean had the inspiration to create one which transfers that information to family members. Given his background in Engineering and now a grad student at the University of Chicago, Sean quickly formed a group of classmates who believed in the mission. Together, they developed PING, a senior-centric smartwatch that captures key vitals of the user and makes the information accessible to their family in real-time. Some of the measurements include pulse, blood pressure, blood oxygen, and temperature.
The design of the watch is light and with a Velcro strap, the user can easily put on or take off the device. The display features larger buttons, texts, and a much simpler set of operations including medication reminders and notifications like calls and texts.
PINGs solution enables seniors to better understand and manage their well-being. For family caregivers, they are empowered with critical information of their loved ones and the peace of mind no matter where they are.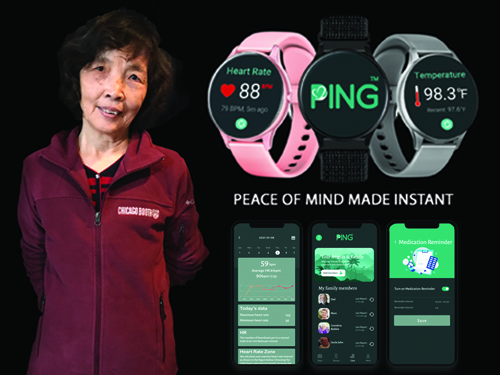 Other Articles You May Like