Can you think of the last time you had fish or a seafood entrée for your main meal of the day? Hmmm – can't quite remember? The passage of time may not be the only factor to blame. Nutritionists have revealed the results of numerous studies indicating that improved memory is just one of many brain-boosting benefits associated with eating more fish.
Here—in celebration of March as Nutrition Month—we're going to review the benefits of eating fish and seafood for brain health and show you how healthy menu planning is just one objective The Glenview at Pelican Bay incorporates into a healthy, active senior living lifestyle for its residents.
HEALTHY FISH FACTS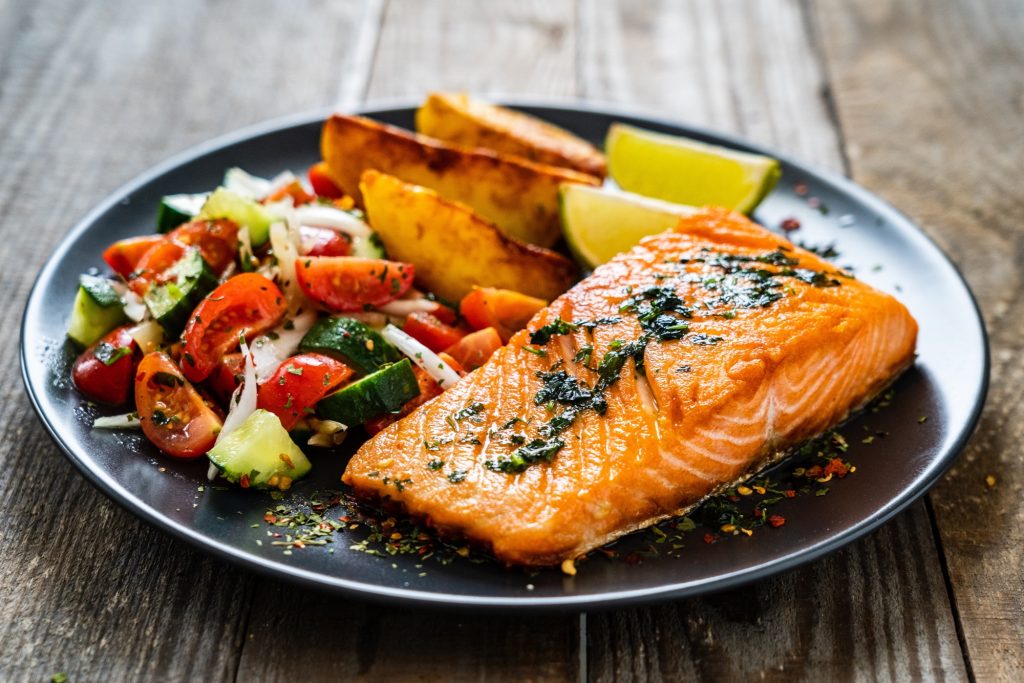 The American Heart Association recommends eating fish (serving size: 6 ounces) at least two times per week as part of a healthy diet that promotes the following benefits for the brain—and the heart:
A low-fat, low-sodium resource: Watching salt and fatty food intake is important for everyone, especially as we age.
A high-quality protein: Fish is an abundant source of protein, vitamins, and minerals, such as D, B2, calcium, phosphorus, iron, zinc, iodine, magnesium, and potassium. Seafood can reduce the risk of stroke and also lower blood pressure and the risk of a heart attack.
Abundant omega-3 fatty acids: These essential nutrients keep our brain—and heart—healthy. Our bodies do not produce omega-3 fatty acids, so we must get them from the food we eat. Omega-3 fatty acids are found in every kind of fish but are especially high in fatty fish. Some good choices are salmon, trout, sardines, herring, canned mackerel, albacore tuna, and oysters. Fatty acids also:

Decrease levels of blood fat and cholesterol
Aid healthy brain function
Prevent inflammation and reduce the risk of arthritis
May decrease the risk of depression, Alzheimer's disease, dementia, and diabetes
SUPPORT FOR ALL YOUR NUTRITIONAL NEEDS
A Gulfside City
The Glenview, like many other retirement communities in Florida, has the distinct advantage of easy access and availability to fresh, local seafood because of its proximity to the ocean and The Gulf. Naples has a reputation for excellent seafood. Fish and seafood dishes dominate many Naples area menus featuring grouper, Florida shrimp, and stone crab.
An Award-Winning Culinary Team
Residents of The Glenview enjoy memorable restaurant-style dining options—from formal to casual—right within their community. Creative menus are designed by an award-winning culinary team led by Executive Chef, David Chidsey. As a Blue Zones Certified Community, The Glenview goes beyond delicious and flexible making dining an important part of the overall wellness experience for its residents. An abundance of fish and seafood dishes are part of the menu development process, where Maryland crab cakes and pan-roasted scallops are especially popular. Rachel Ritter, The Glenview's Food and Beverage Director says, "Resident satisfaction is quite high here where choice and selection mean a lot. Our food ranks among one of the biggest reasons people move to The Glenview."
An Onsite Healthcare Center
Residents of The Glenview have access to the professional healthcare services of Premier Place and GlenCare Home Care. Both of these resources are available to assist in coordinating the services of a registered dietitian to help with specific nutritional, vitamin, and mineral needs, as well as help implement a personal nutritional action plan for residents.
Take a moment to review The Glenview website to familiarize yourself with all our services and amenities, and then contact us.