The first step through the door from the house into the garage is often the most disorienting and dangerous aspect of exiting a home. In homes with this type of design, the following4 garage stairs ideashelp solve the dramatic elevation change and can be adapted over time as change in circumstances occur for the homeowner.

GARAGE STAIRS IDEAS #1: Level ground
By making the first tread level with the floor in the house, homeowners dont start their descent until they are already through the door and with both hands firmly on the handrails.

GARAGE STAIRS IDEAS: CUSTOM BUILT OUT OF WOOD

Here is a close up of the first tread from the home into the garage. By leveling that first step, it makes exiting the home much more comfortable and safer.

GARAGE STAIRS IDEAS: THATS ONE LEVEL FIRST STEP

GARAGE STAIRS IDEAS #2: Add a stairlift
The great thing about this approach to garage steps is that whenever a persons mobility changes, astairliftcan always be added. Youll notice that the rail on which the motorized chair glides on is attached to the actual steps, not a wall. This offers a great deal of flexibility in terms of installation options, in addition to one smooth ride.

GARAGE STAIRS IDEAS: A MOTORIZED STAIRLIFT

GARAGE STAIRS IDEAS #3: Add a vertical platform lift
If circumstances change again and when homeowners must rely on a wheelchair or scooter for mobility, the garage stairs can be rotated and re-used and a vertical platform lift (VPL), or more commonly known as a wheelchair lift, can be attached to an upper landing platform. The main advantage of a VPL is its space-saving characteristic.

GARAGE STAIRS IDEAS: A VPL HELPS ANYONE ON WHEELS ENTER/EXIT A HOME

GARAGE STAIRS IDEAS #4: The EZ Steps Variation
Another variation of garage stairs are these EZ Steps. Their shorter rise and longer run is great for anyone that relies on a walker and makes entering/exiting a home easier. Each step fits both the walker and the person, which help maintain ones independence.

EZ STEPS ARE IDEAL FOR THOSE THAT USE A WALKER

GARAGE STAIRS IDEAS: Conclusion
This type of garage steps solution is simple, functional and inexpensive. It brings great comfort and greater safety, and can be adapted to make a home more accessible over time with the eventual addition of mobility equipment like a stairlift or a wheelchair/scooter lift. The adaptability of this approach makes planning ahead possible.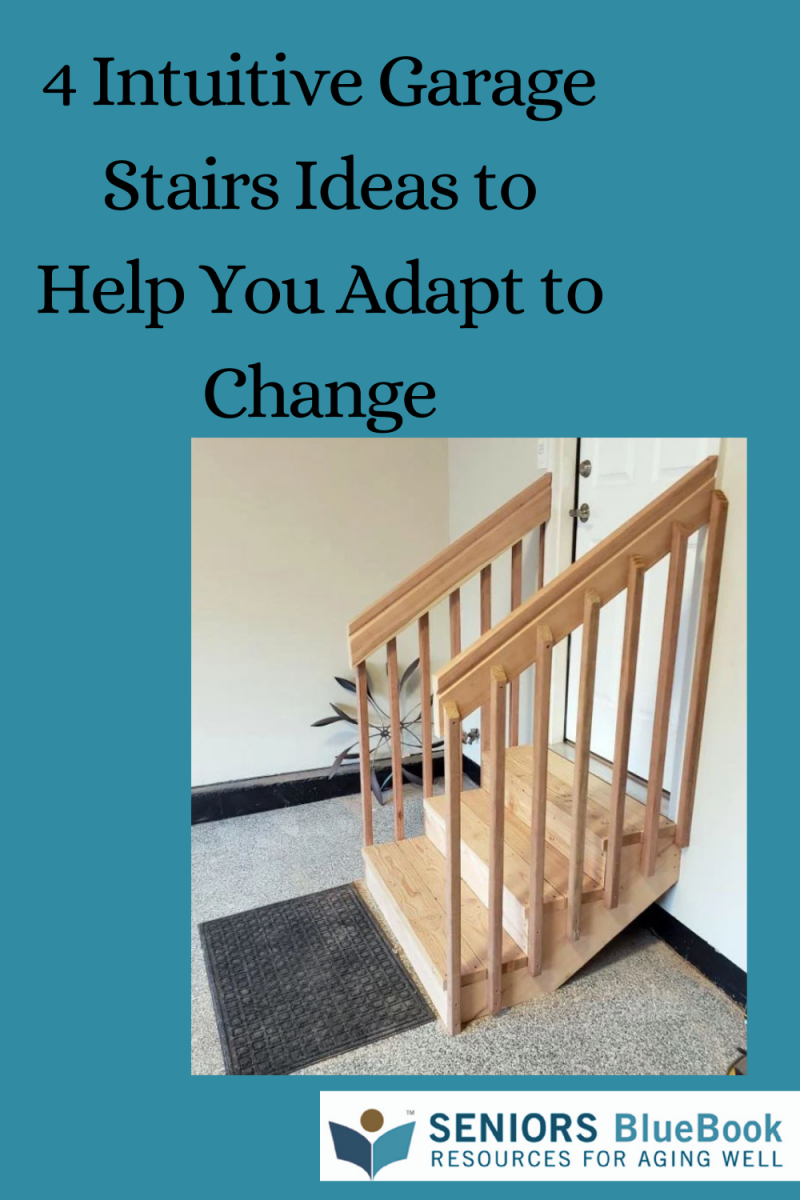 Other Articles You May Like