Author
Terracina Grand
For more information about the author, click to view their website: Terracina Grand
Book/Edition
Florida - Southwest
For more information on Terracina Senior Living, Click Here.
If you're just beginning to explore the vast array of options available for senior living, you're likely to come across some unfamiliar terminology and titles. Sometimes, the many concepts and options may seem to overlap. The process can feel a bit confusing, so we put together a list of common terms, phrases, and acronyms you're likely to run into during your research.
A
Activities of Daily Living (ADLs)Daily self-care activities, such as dressing, bathing, eating, and taking medication.
Adult Day Care A service that provides daytime care for adults outside the home. Adult day care can include a wide range of activities and services, including nutritious meals, social activities, and medication management.
Aging in Place The concept of remaining in one's home regardless of changes in health or care needs. This can take place in a senior living community, an apartment, or a home.
Alzheimer's Disease A medical condition that affects the brain and is a form of dementia. Symptoms can include loss of memory, inability to recognize others, and other similar symptoms.
Ambulatory The ability to walk independently, including walking with the use of an assistive device like a cane or walker.
Assisted Living or Assisted Care A type of care level offered at a senior living community in which residents receive help with activities of daily living based on their unique needs. Services can include meals, transportation, housekeeping, medication management, laundry, and social activities.
C
Caregiver Any person who provides assistance with activities of daily living tasks to another individual. A caregiver can be a family member, a friend, or a medical professional. A primary caregiver is the person most responsible for assisting an individual.
Care Suite A private or semi-private living accommodation designed to offer ongoing services and support, typically providing a higher level of assisted living services to individuals.
Certified Nursing Assistant (CNA)CNAs provide direct assistance with activities of daily living and other health care needs to residents and patients under the supervision of a nurse or other healthcare provider. CNAs are also known as a nursing assistant or a nurses aide.
Continuing Care Retirement Community (CCRC)A senior living community that provides multiple levels of care (also referred to as a continuum of care) to residents based on their individual needs. The care levels within a CCRC are often referred to as independent living, assisted living, and skilled nursing. Most CCRCs require an entrance fee, which may or may not be refundable, and a monthly fee, which varies depending on the type of CCRC contract.
Continuum of Care This refers to the complete range of healthcare services and other service options available within a particular community or campus. These services often evolve to meet an individuals needs over time.
D
Dementia The loss or diminishing of cognitive functions, such as memory, reasoning, and thinking, that interferes with a persons daily functioning. There are numerous types of dementia, including Alzheimer's disease, Parkinson's disease, and others.
H
Health and Rehabilitation Center A residential setting in which a range of nursing and/or medical services are provided to residents.
Home Health Care Nursing or other medical care provided to an individual in their home.
Hospice Care A service that provides end-of-life comfort and care.
I
Independent Living A senior living community in which residents require minimal or no assistance with daily activities.
L
Life Enrichment Program A variety of activities developed to target whole-person well-being and enhance the quality of life for residents in a senior living community.
Living Will A legal instrument by which an individual details the actions to be taken if he or she becomes incapacitated, is unable to provide consent, or is unable to make his or her own medical decisions. A Living Will is also referred to as an advance healthcare directive or medical directive.
Long-Term Care The services provided, typically over long periods, to individuals who cannot care for themselves. The services provided vary depending on the condition of the individual receiving them, including whether the result of an injury, a chronic condition, or a disability.
Licensed Practical Nurse (LPN)LPNs provide basic nursing care to residents under the supervision RNs or physicians.
M
Meals on Wheels A service that delivers meals to a persons home.
Medicaid A federal and state-funded program that assists low-income individuals with coverage for medical care and other health-related services. Medicaid is separate and distinct from Medicare.
Medical Director A leadership-level physician who provides guidance to a healthcare organization or community.
Medicare A federal health insurance program for individuals 65 years of age and older. Medicare also provides health insurance for individuals under the age 65 who meet the eligibility requirements.
Medication Management A process designed to facilitate the safe, effective, and appropriate use of medications.
Memory Care Specialized services provided to residents of senior living communities who need support due to memory loss, dementia, or Alzheimer's disease.
Montessori Montessori [Inspired Lifestyle]is a positive approach to providing care for adults living with dementia or Alzheimer's disease. Based on the methods of Maria Montessori and adapted by Dr. Cameron Camp, founder of the Center for Applied Research in Dementia, this approach of care allows residents to focus on their individual strengths and engage in meaningful activities.
N
Nursing Home Nursing home is often used as a catch-all to describe any residential community offering senior living accommodations, although doing so fails to capture the wide range of available senior living communities. Instead, the recommended approach is to identify senior living communities by the level of care provided, such as independent senior living, assisted living, memory care, and skilled nursing.
O
Ombudsman / Ombudsperson An independent representative, often employed by the state, for residents living in long-term care communities. An Ombudsman/Ombudsperson typically serves as an ally or advocate for residents in long-term care communities, helping them address concerns with the community's leadership and team members.
P
Palliative Care A medical specialty providing relief from the pain and suffering associated with serious illness. Palliative care is sometimes offered as part of hospice or end-of-life care.
Physical Therapy The treatment of injury or illness with the use of exercise, massage, or other therapy techniques. (See also Rehabilitation.)
Power of Attorney An instrument granting someone, often referred to as an agent, authority to act as agent or attorney-in-fact for the grantor, also referred to as the principal. The Power of Attorney document specifies the authority provided to an agent. A Power of Attorney can be limited to Medical Power of Attorney or Financial Power of Attorney, which provides an agent with authority to make medical decisions or financial decisions, respectively, on behalf of the grantor.
R

Registered Nurse (RN)An RN is a nurse who has graduated from a certified nursing program and met the requirements to obtain a registered nurse license. An RN's scope of practice and responsibilities vary by state.
Rehabilitation The process of restoring a capacity lost or diminished by illness or injury. Rehabilitation can include physical, occupational, or speech therapy.
Respite Care Short-term, institutional care given to an aging, sick, or disabled person. Respite care also provides relief and support to a usual caregiver should they need to be away for a period of time.

S
Senior Living Community A residential setting specifically designed for seniors, with an emphasis on maintaining a high quality of life through activities, services, and community engagement.
V
VA Aid & Attendance A supplementary monthly payment, over and above a standard VA pension payment, for qualifying veterans and survivors. The VA administers Aid & Attendance payments, which are available to veterans who need assistance with daily activities, certain veterans who live in nursing homes, or veterans who spend a significant amount of time in their homes due to a permanent disability.

We hope this introductory list has improved your familiarity with senior living terminology. When you're ready, we invite you to take advantage of our free Guide to Senior Living Tours to help make the most of each tour.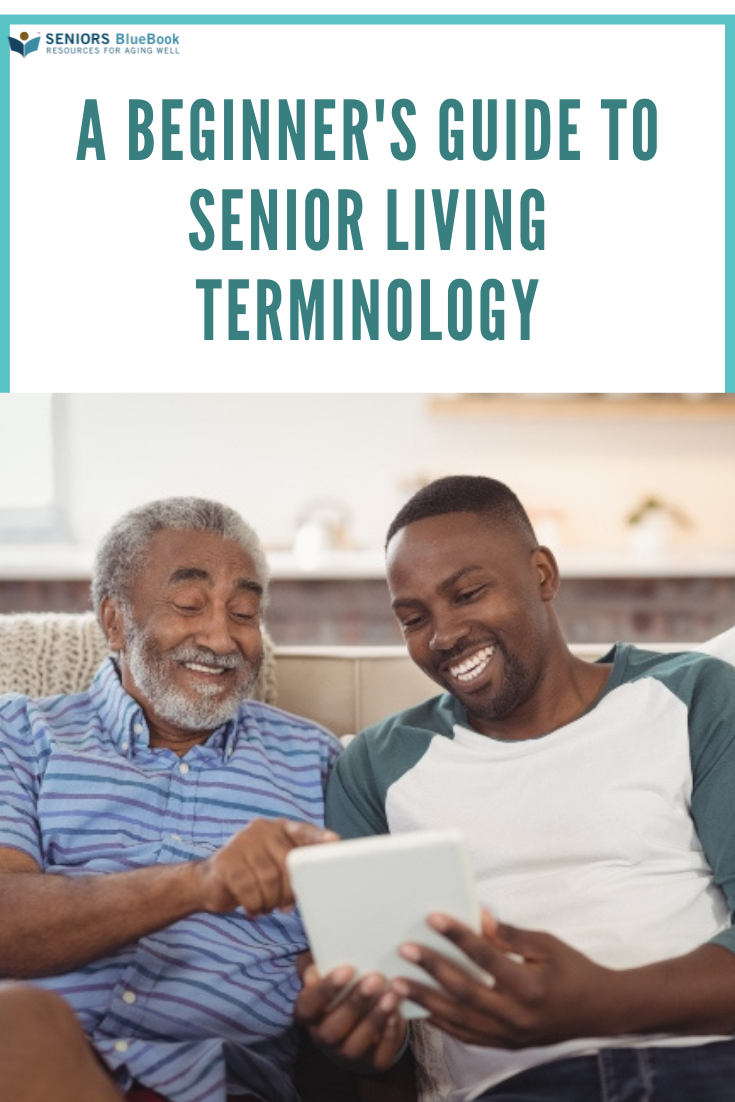 Other Articles You May Like