For more information on Visiting Angels, Click Here.
Older adults may notice their vision starting to worsen as they age. While it may be a normal part of aging, all eye problems should not be ignored. Vision changes or disorders should be diagnosed and treated by a medical professional as soon as possible.
The risk for many eye conditions increase for individuals in their 60s and beyond. Troublesome eye conditions include:

Difficulty focusing on items up close
Needing more light when reading
Dry eyes
Loss of peripheral vision
Floaters
Trouble seeing contrast between colors

Some seniors may also be at higher risk of developing serious eye disorders, such as:

Cataracts
Diabetic retinopathy
Glaucoma
Retinal detachment
Age-related macular degeneration

But whether a senior is dealing with normal age-related vision changes or an eye disease, routine eye care should be an important part of their health regimen.
Why is Routine Eye Care Important for Seniors?
Because seniors are more likely to develop eye diseases or vision changes, routine eye care can help detect problems early before serious issues arise that could significantly affect their eyesight.
For example, diabetic retinopathy a progressive condition that affects people with high blood sugar can lead to vision loss and blindness if left untreated. Although diabetic retinopathy is not curable, treatments may help slow or stop the progression. Early treatment can reduce the risk of blindness and help maintain better vision.
Glaucoma, a group of eye diseases that damage the optic nerve, is another condition that is not curable or reversable, but may be manageable if detected early.
A cataract, which occurs when the lens of the eye becomes cloudy, is very common and may be treatable with surgery. However, an eye care professional will need to monitor to ensure the cataract does not worsen over time.
How Can Routine Eye Care Maintain Quality of Life?
Keeping a diagnosed eye disease under control through routine follow up and monitoring is a critical part of preserving and maximizing your older loved ones vision. But even if your loved one is not living with an eye disease, routine eye care can help them maintain quality of life.
Age-related vision changes may prevent your older loved one from engaging in activities and hobbies such as reading, driving, or golfing. They may even challenge everyday activities, such as matching dark blue and black socks when folding laundry or reading a digital clock from across the room. At worst, vision issues can increase the risk of accidents and falls around the house or make driving unsafe.
In addition to conducting a complete eye exam, your loved ones eye care professional can make recommendations that can improve your seniors ability to see or reduce the risk of accidents and injuries.
Professional Home Care Can Assist Seniors with Vision Problems
If your older loved one has a vision concern, a Visiting Angels caregiver can assist in a variety of ways, including:

Eye exam reminders
A Visiting Angels senior care provider can remind your loved one when its time to schedule or attend their eye exam and arrange for transportation if needed.


Creating a safe environment
Our caregivers can monitor for hazards (i.e. clutter, loose rugs, hard-to-see stairs, slippery floors, etc.) around the home that could lead to a slip, trip or fall.


Managing daily tasks
An in-home caregiver can help your senior manage everyday tasks that may have become difficult due to vision concerns. From help with reading or cooking to assistance with errands to organizing items so they can be easily identified by touch, a Visiting Angels caregiver can provide the help your loved one needs.


Assistance with vision aids
Visiting Angels caregivers can incorporate vision aids into your older loved ones everyday life. If your senior needs help keeping track of their glasses, reading a prescription, or adjusting their TV or cell phone settings, our caregivers can lend a hand.


Managing modifiable risk factors
In-home caregivers can prepare healthy meals, remind your older adult to take medications to control chronic conditions, and encourage regular exercise to promote eye health.


Providing companionship and comfort
According to the National Institutes of Health, older adults with vision loss may be at a higher risk of loneliness and social isolation. A Visiting Angels caregiver will provide your loved one with companion care and social interaction in the comfort of their own home.

If a senior is experiencing vision changes, our caregivers can provide dedicated and personalized assistance. Our caregivers will monitor your loved ones well-being and ensure you of their safety and well-being.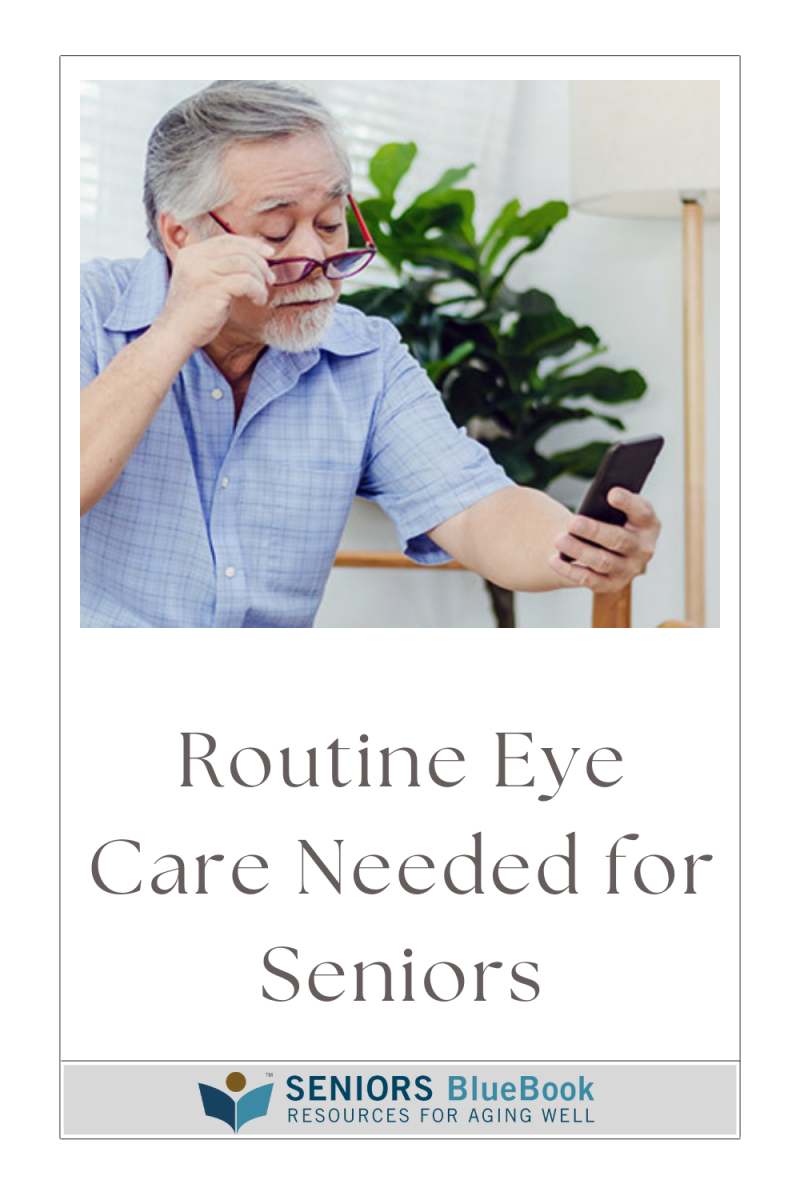 Other Articles You May Like