Its not easy to choose your incontinence product that fits you best; it may not be a good idea to pick up a product by brand name only. Instead, choose the product that will work best for you. The important features of an incontinence product are leak protection, comfortable fit and absorbency. Find a well-balanced product. Not all incontinence products are created equal!

Keys to finding the perfect product
for you or for your loved one:

Avoid chain stores
Chain stores have limited brands on the shelf and dont provide a good amount of choices. They often exclude certainsizes and/or types. Avoid choosing one based solely on appearance of package. Visit web sites and do your research; educate yourself on all the available options. This is crucial to picking the correct product!

Dont just assume the brands you are familiar with will provide the best value. Know all your options!

Unfortunately, mass marketed national brands are not always the best products for your incontinence needs. You deserve the highest quality products available to you. Often, youll find a better-quality product with better cost effective-ness.

Ask for free samples

Many incontinence product manufactures and providers will give you samples for free trials. Contact them, and ask for free samples! Dont hesitate to ask for 2 different sizes if you are in between the sizes, because the proper fit and size matters!

Check if it has leak protection

Find out what kind of leak protection the product pro-vides. For example, some products have built in leakage barrier leg cuffs that provide the best leak protection!
Products that only advertise excellent absorbency are usually lacking a leak protection system; and often this excellent absorbency claim turns out to be unsatisfactory. Those claiming only good absorbency performance from lab-oratory tests can mean inadequate performance.

Choose the correct size

Choosing the correct size is very important. It has a lottoo tight, it is uncomfortable; while if too loose, it may not give you proper leak protection as intended. For a product to perform at its best, you need to choose the right size. Good manufactures provide a variety of sizes for this reason.
Wear as instructed

Adult incontinence products are not difficult to use; how-ever, please read the instructions on the products package or the product brochures. Usually, you can find some helpful information.

Ask for a better option for a better solution

Do not hesitate to reach out to customer service with the incontinence product providers for consultation. Ask for other options. They will usually provide you with solutions, and with free samples for you to try!

Make sure of a comfortable fit

Incontinence products are worn every day. If its uncomfortable, you may want to look for a better one. If you are taking care of those who use incontinence products, please ask how the product feels when wearing.

Choose the best quality product, usually it ends up with less cost/waste

In many cases, one consumes a lot of incontinence products a day; such as 5 or 7 pieces a day. A cheap product re-quires more changes and creates more waste. In contrast, a high-quality product requires less change and less waste. As a result, you would spend a lot less money on the high-er-quality incontinence products. In this way, a high-quality product is deemed cost effective as well. Dont be deceived by cheap price tags; you may want to evaluate your cost per day to be cost effective.

Dont stay in a conventional way

There are more incontinence solutions than you know. So many advances have been made in incontinence products! Try a new and advanced approach; the 2-piece system* for example, because it might be a better solution to your incontinenceissues.

* The 2-piece system uses 2 pieces, such as an insert pad and a brief, or an insert pad and a protective underwear. It is very convenient because it allows you to change the pad multiple times throughout the day without changing the brief or protective underwear. For example: instead of going through 5 briefs a day, you may only use 1 brief and 4 pads in a day. This way you can avoid waste and save money by purchasing the less expensive insert pads versus the more expensive briefs or protective underwear.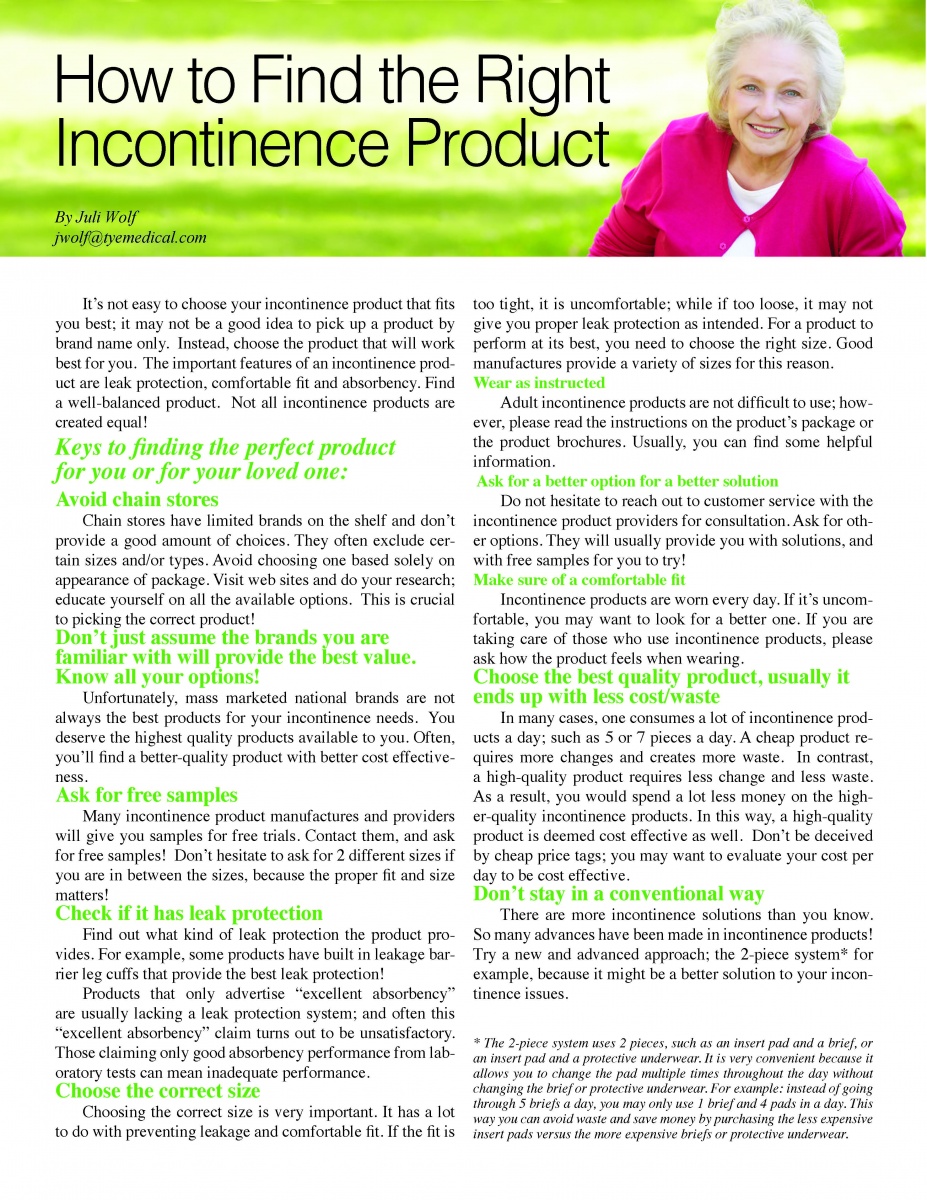 Other Articles You May Like